[India Prism] India, Blue Ocean for Art Market
'Korean artists are introduced to India Art Fair…' Rise of Korean artists to India Art Market
2018.02.13(Tue) 10:28:12
[Biz. Hankook] Delhi, the capital city of India, in February is crowed with art lovers, curators, gallerists, and collectors coming from all corners of the globe. They came to
India to participate in the largest art fair in India, India Art Fair.  
This year is 10th anniversary of its founding and was successful with participations by over 80 local and international foundations and galleries located in London, Madrid,
Singapore, and Busan in South Korea. Korean Cultural Center of India (Guem Pyung Kim, president of the center) also participated in the fair to introduce Korean female
artists, Bomin Kim, Jang Pa, Duk Hyun Jung, Jipyung Kim, Mujin Hyungjae, Isob and others in their thirties or forties, with 'Art Space Pool'.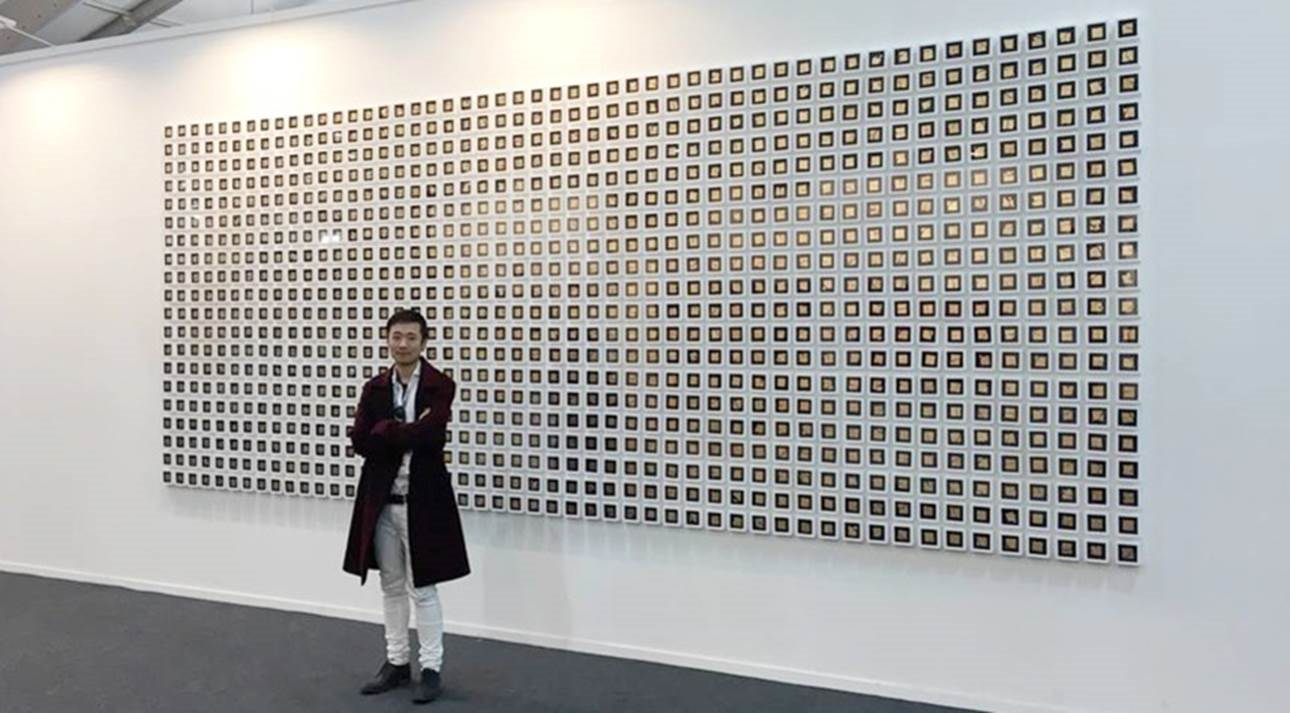 '1000 attempts at a reconciliation'. Image=Sabrina Amrani Gallery
As a highlight of the fair, '1000 Attempts at a Reconciliation' by Timothy Hyunsoo Lee, an artist of Sabrina Amrani, was introduced and placed in the spotlight.
He rose like a new start after he was awarded by International Emerging Artist Award 2014 Dubai and he is well known for expressing a journey to find out identity as an
immigrant by a repetition in figure using Korean materials, Hanzi and Hanbok.
He explained that this artwork is to express the meaning of love through a process of attaching gold leaf each piece by hands with the inspiration he had from the story his
grandmother, saying that folding paper into a figure of crane brings you luck.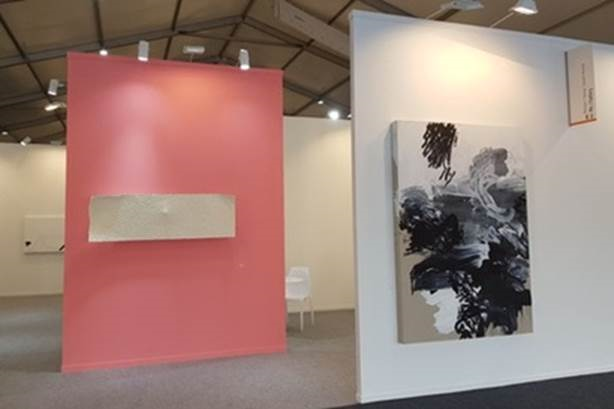 Mo J Gallery's booth in 'India Art Fair'. Image by Mo J Gallery
Meanwhile, MCH group in Switzerland, running 'Art Basel', one of top international art fairs, bought up 60% of total shares of India Art Fair to make inroads into India art
market and this led to mounting the interest in India Art Fair 2018.
Prior to taking over total shares of Hong Kong Art Fair, a largest art fair in Asia, in 2014, MCH took over 60% of total shares of India Art Fair in 2011 and this strategy led to
expectation that India Art Fair will be rising as a major art marketing playing a leading role in global art markets.
Moreover, Jagdip Jagpal, a member of RCA committee, was recently appointed as a director for the fair which consequently broadened category of artists and art with shift
from focusing on existing well-known artists to young artists with potential. The fact that conservative India market placed a spotlight in artists from Korea rather than local
artists implies that the fair is being diversified under new leadership.  
In addition, David Zwirner, taking fifth rank in 'Power 100', annual selection for international art, by 'Art Review', participated in the fair for the first time and it is recognized
that the gallery's participation contributed to increasing public confidence of the fair.
Eunji Lee, executive director of Mo J Gallery, first Korean gallery participating in India Art Fair, said "India Art Fair ranks with art fair in Paris or Hong Kong….and my gallery's
collection received great attention in India so I will definitely participate in next year as well".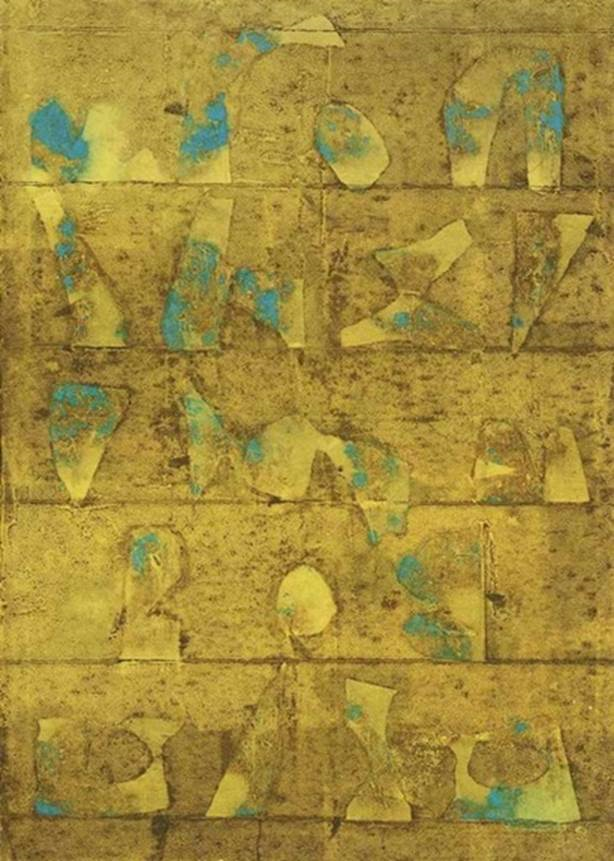 Artwork by Gaitonde . Image=Christie's
Due to recent depression in art market in China, growth of global art market has been sluggish, whereas the art world's interest in contemporary art in India is continuously
rising. The untitled artwork by V.S. Gaitonde, well-known India artist for abstraction was bid at 4 million dollars and internationally well-known galleries including Met and
Tate Modern have been selecting India artists for their exhibitions.  
Contrary to rise of India contemporary art in global art market, domestic purchasing power is not that strong. For the example of this, Christie's left India in 4 years due to
disappointing figure. Also, most of people showing great interest in or purchasing artworks in India Art Fair are collectors from Western counties.
This rather implies that India art market has strong potential to grow. India has the world's fourth largest number of billionaires (101) and the number of emerging wealthy
classes increases which will lead to large expansion in demand and investment in artworks. It was also reported that Sotheby's and Christie's will expand investment in market
in India.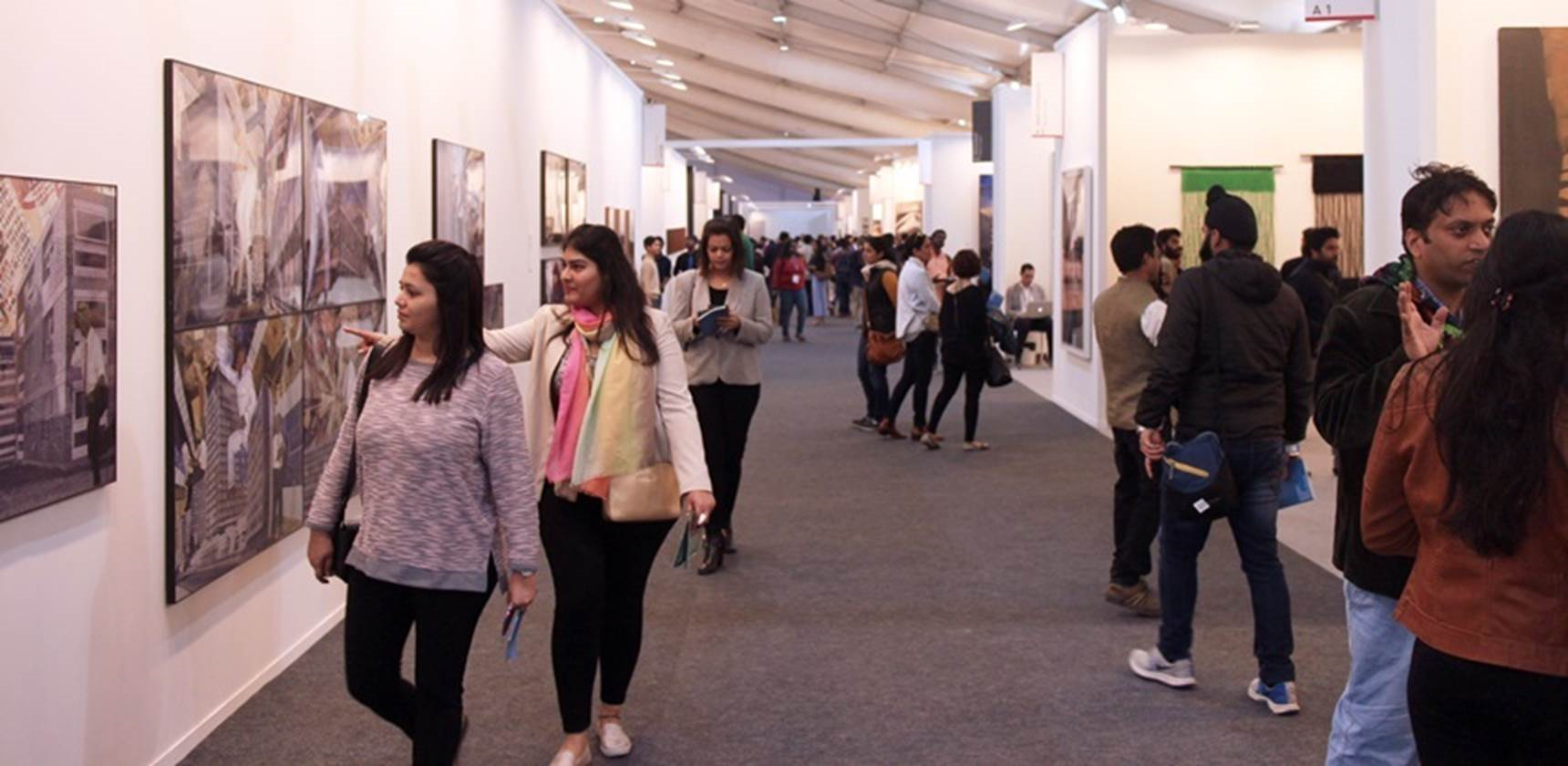 Image of 'India Art Fair'. =Image by So Yoen Park
Indeed, India Art Fair is still new and unfamiliar to people in Korea. Eunji Lee, executive director of Mo J Gallery, said "There was a hesitation before I made my decision to
participate in India Art Fair due to the lack of information about this fair but I put significance on that it is the fair's first time to have a Korean gallery and broadening our
market base to India".
With the president Moon Jae In's new policy of "the southward', global interest in India art market is rising and Korean galleries are also expected to progressively enter into
India art market.
Park So Yeon, PhD in International Studies writer@bizhankook.com